Welcome to Three Rivers Studios.  Come and stay with us overnight or for an extended visit.  Whether you are on business or have chosen Hinton as your vacation hub, make our warm, bright, comfortably appointed studios and helpful staff your home and hub for the duration, long or short.
Our studios come with full-function kitchenettes, work areas and HS internet and are centrally located on the upper floor of a restored 1920's Ford car dealership, now an antique store, on Hinton's rustic and once infamous 3rd. Avenue.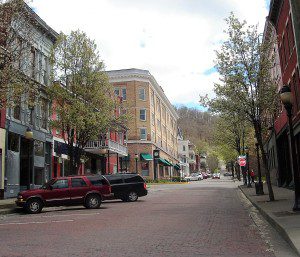 The  saloons and brothels that at one time lined both sides of the street are gone but the notoriety lives on still in the minds of local gentry.
Hinton in it's heyday was the hub of a booming railroad enterprise.  It's bricked streets and replica cast iron street lamps preserve a sense of history and energy – of prosperity and drive.  It's railroad heritage is celebrated in a two weekend fair held each fall at the height of the fall colors in mid-late October.  An interesting mix indeed of the old south genteel hospitality, confederate rebellion, Yankee ingenuity, Appalachian traditions and crafts, poverty, wealth, thrift and unparalleled beauty.  Come and experience the serenity of the unspoiled forests, hardwood covered mountains, majestic gorges and at the same time taste a cultural flavor like no other.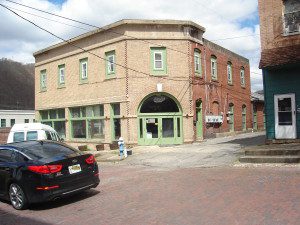 Contact us to confirm dates and availability.
And here are two other well maintained sites to help you plan your itinerary:  Explore Summers County, watch the newest videos.
Visit our other locations to stay at in Summers County, WV.